"

Sarah King murders the murder ballad. Atmospheric and haunted folk...with touches of soul and gospel" - Ray Padgett
"

Sarah King's tracks on The Hour feel somehow secret and special, something you might gladly discover walking into the back room of a darkened pub, a spell to be woven."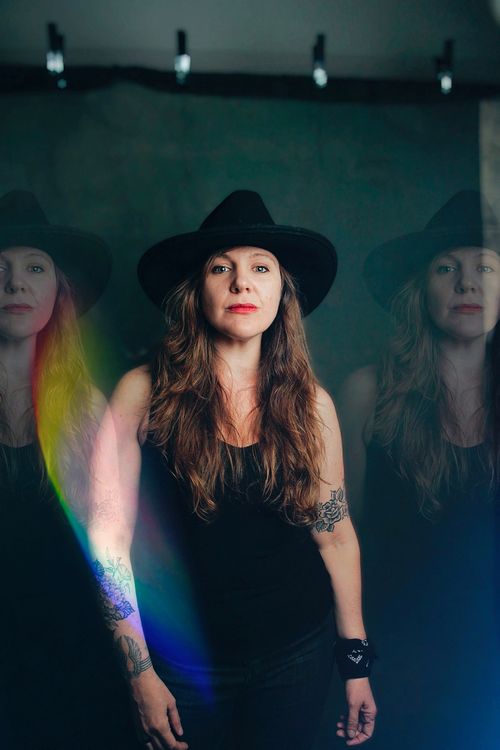 2022 Folk Alliance International Official Showcase Artist
2021 New England Music Awards Songwriter of the Year
2021 New England Music Awards nominee for Song of the Year and Americana Band of the Year
"The Hour" one of the top 5 EPs in Vermont 2021
"The Hour" one of the top EPs on B Sides & Badlands 2021
"Not Worth the Whisky" music video winner of NERFA Summer Video Spotlight
The Hour reached #60 on Americana album chart
"War Pigs" featured on WXPN's World Cafe
2021 Black Bear Americana Music Festival Main Stage performer
2020 & 2021 Philadelphia Folk Festival performer
"NIGHTSTAND" named #1 Best Song in Vermont 2020
Sarah King inhabits the dark side of Americana, creating gritty murder ballads and feminist anthems anchored by her atmospheric voice and rhythmic blues guitar. "I always say my influences are bourbon and bad decisions," she explains when asked about her gothic country style. On her debut solo EP, The Hour, King stands up to the idea that women should just smile and be quiet, exploring how righteous anger, revenge, and fear can actually lead to empowerment.  
The Hour is at once a rebirth for her sound and a testament to how far she's come. For King, music isn't as much a choice as it is a compulsion, a force always waiting for her even during times of burnout and altered circumstances.  
"The moment I knew music had chosen me once and for all was when I was running the furthest away from it," King says. "I spent almost a year traveling the U.S. and U.K. in a tent away from my instruments because I was facing so much loss —my life had started feeling like a bad country song. My dog died, my first husband died, my mama died. But the further I ran, the music came after me, chased me down, brought me back. It was like a siren call. And I realized life is too short. I never wanted to be away from music like that again." 
This determination to pick up her music career and dive deeper into a grittier, more introspective style led her to send a shot-in-the-dark email to Simone Felice (The Lumineers, Matt Maeson, Jade Bird) with a performance video of her new song "Nightstand." To her surprise, he loved her voice and the song, and invited King to record the song at Sun Mountain Studio with co-producer David Baron, followed by a second invitation to record the four other tracks that make up The Hour. 
"To have that kind of validation felt unreal," King says of the experience. "All musicians have had people say 'Thanks, but no thanks' plenty of times, but to have that one person say 'Yes' is a game changer."  
In just five songs, The Hour explores a loose narrative arc following a woman who's been done wrong, and the different ways she responds to the situation. "Poison" employs piano-driven soul  as a strong response to a man who doesn't like the taste of his own medicine (What do you say to a man who won't listen / I don't want to waste my breath / You say I'm crazy, out of my mind / You ain't seen anything yet). "Nightstand" imagines the narrator confronting fear of physical violence with revenge, coming back after dark to commit an untold act (There's a darkness reaching for my hand / I take the gun from my nightstand / Dancing to music to bury a body by). "Cold Hard Ground" is a song with spaghetti western vibes about finding freedom in death, while "Not Worth the Whisky" is a swaggering stomp-and-holler about making peace with your dark deeds. 
For King, the most urgent song to record was the one that almost didn't make the cut. The Black Sabbath song "War Pigs," about the hypocrisy of war, has only grown in meaning since she first started covering it when touring around Georgia and the South with her band Ophir Drive in the early 2010s. King lost her first husband, a soldier, to suicide after a struggle with PTSD. His death came a few years after their split over her realization that her dreams and his military aspirations were at odds.  
King says, "I'll remember that moment forever: He was living in North Carolina temporarily for military training, and our tour van was having a lot of problems. We started talking about trading the van in, and on the phone, he suggested a smaller vehicle, maybe a Jeep or something, to which I asked, 'Where am I going to put the gear and the guys?' and his response was 'You mean you want to keep doing this?' It took me another six months to get the courage to leave, but I knew it was over from that sentence. I knew we weren't truly on the same page, that although he thought it was cool his wife was in a band, he didn't expect that to be part of my life forever." 
Recording a new stripped down acoustic cover of "War Pigs" has been one way for King to deal with the trauma of losing him, and the regret that she couldn't do more. "I will forever live with the thought of 'Maybe I could have just waited,' or 'Is any of that my fault.' We remained close friends up until about a year prior to his death, and I will never know the answers. I know my life is better for him having been in it." 
When she first brought up recording "War Pigs" with Felice and Baron, they were unsure. Told she only had 20 minutes to play it live, she had to absolutely nail it, or it was getting cut. So she took a deep breath, walked into the booth, and did exactly that.  
"Even though it was written during the Vietnam War the situation described within hasn't changed," King says. "In some ways I feel like it's worse. The division in the U.S., the blatant hatred fueling the violence, and the fact that politicians continue to hide themselves away. It still means so much and rings so true. Honestly, it's almost more meaningful to me now that I've lived and learned and lost." 
Ultimately, King hopes her music helps others realize they're not alone. Whether someone is facing grief, betrayal, or the bottom of a bottle, she's been there. King might not make you feel better, but she's going to help you make it through.  
Together, the songs on The Hour mark the evolution of King's sound, and a promise that she will make her voice, and those of women everywhere, heard. 
For booking please contact Jason Kelly: BOOKING@SARAHKINGSINGS.COM 
For more information about Sarah King please contact Meg Mariel at Harper Valley PR: meg@harpervalleypr.com